A career in the beauty Industry provides incredible opportunities—Increased earning potential, flexible hours, job satisfaction, and the opportunity to help people look and feel their best. If you are seeking a solid foundation in a field enjoying rapid growth, we can help. Whether you are interested in cosmetology, manicuring or esthetics, we'll help make certain you are fully qualified to become a successful professional in the beauty industry. With an estimated $56 billion spent annually, the beauty industry needs more salon professionals than can be supplied. You'll enjoy a rewarding career with great income potential, and the ability to work flexible hours.
Learn more about what we offer by downloading our catalog.

Licensed cosmetologists work in an incredibly rewarding field. They help people look and feel their best. Some of the benefits of becoming a licensed cosmetologist include job security, flexible hours and a great earning potential. Keene Beauty Academy's Cosmetology Program consists of 1500 hours of training. Read More →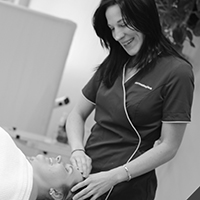 Now more than ever, people realize the importance of proper skincare, making esthetics one of the fastest growing segments of the salon/spa industry. Estheticians perform a variety of treatments to help provide the client with lasting skin health.
Keene Beauty Academy's Esthetics Program utilizes Dermalogica, one of the leading skin care systems in the world. Read More →
Mission Statement
Professional cosmetologists, estheticians, and manicurists are in high demand. We feel that a strong, solid educational foundation allows for individual growth. Whether our graduates choose to be stylists, salon owners, platform artists, makeup or skin care specialists, or instructors, the education they receive will support their dreams. Our philosophy is to encourage and develop talent, desire and confidence in each of our students. Our goal is to instill commitment, challenge, purpose and spirit; guaranteeing each student the opportunity to perform at his or her best. We provide a safe, positive learning environment to acquire the knowledge, skill and expertise to become a successful professional within the beauty industry. We truly believe that "A quality education is the foundation to a promising career."
Career Opportunities Include:
Hair Stylists
Estheticians
Hair Color Specialists
Image Consultants
Photo & Movie Stylists
Medical Estheticians
Salon or Day Spa Owners & Managers
Beauty Care Product Distributors
Manufacturer's Sales Representatives
Cosmetology School Instructors
Makeup Artists
Signup for Our Newsletter?