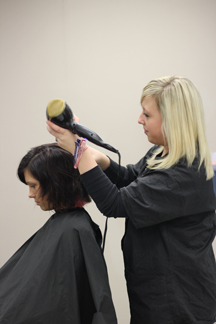 Licensed cosmetologists (soc) 39-5012.00 work in an incredibly rewarding field. They help people look and feel their best. Some of the benefits of becoming a licensed cosmetologist include job security, flexible hours and a great earning potential.Keene Beauty Academy's Cosmetology Program consists of 1,500 hours of training. The objective of this program is for students to develop knowledge and skills in all areas of cosmetology. Our program of study is approved by the National Accrediting Commission of Career Arts and Sciences, The New Hampshire State Board (and states with reciprocal agreements) and the U.S. Department of Education.Our cosmetology program includes 1,500 hours of study, approximately 13 to 15 months, 30 hrs a week. The curriculum includes a mix of classroom studies and hands-on training in our student clinic. In addition, students enjoy guest speakers, technical demonstrations and numerous small workshops.
Training Hours
Block 1
Wet Hairstyling
Thermal Styling
Infection Control
Shampoo/Draping
Hair Removal
Chemical Service Application
Block 2
Facial Shapes
Haircutting
Product Knowledge
Retailing
Block 3
pH
Anatomy
Chemistry
Electricity
Hair through the microscope
Block 4
Hair Coloring
Permanent Waving
Chemical Relaxing
Block 5
Skin Disorders
Facials Makeup
Nail Disorders
Manicuring
Pedicuring
State Laws
Career Management
Total Cost
Non-refundable Application Fee – $100
Lab Fee – $200
Uniform – $150
Books & Equipment – $1,900
Tuition  – $17,000
State Registration – $25
Hours
Monday thru Friday 9AM to 4PM
Lunch – 11:45 AM to 12:45 PM
2017 Start Dates
January 17
March 20
May 15
July 10
September 11
November 6
January 16, 2018
Financial Aid:
We are a fully accredited institution. Pell Grants, Stafford Loans, Plus Loans, and scholarships are available for those who qualify. Cash payment plans are also available.
Continue your education into Esthetics by transferring 150 of your completed cosmetology hours.
Student Kit & Equipment
Students may purchase a kit of professional tools and textbooks from Keene Beauty Academy. The student kit consists of the following:
Milady Textbook of Cosmetology

Milady Workbook of Cosmetology

State Board Exam Review Book

Academy's Rules & Regulations Book

Mannequins & stand

Blow Dryer

Curling Iron

Flat Iron

Assorted Hair Brushes

All-purpose combs

Rat tail combs

Tease comb
Shampoo cape

Feather razor

Hair cutting shears

Thinning shears

Clipper & Trimmers

Permanent wave rods

Box end papers

Color bowl & brush

Applicator bottle

Spray bottle

Tweezers
Complete Manicure and Pedicure kit

Including:

Nail Tips & adhesives

Files & Implements

Polish & Remover

Manicure & Pedicure Items

Nail Bowl

Sanitation Items

Artificial Nail application

Nail Art kits