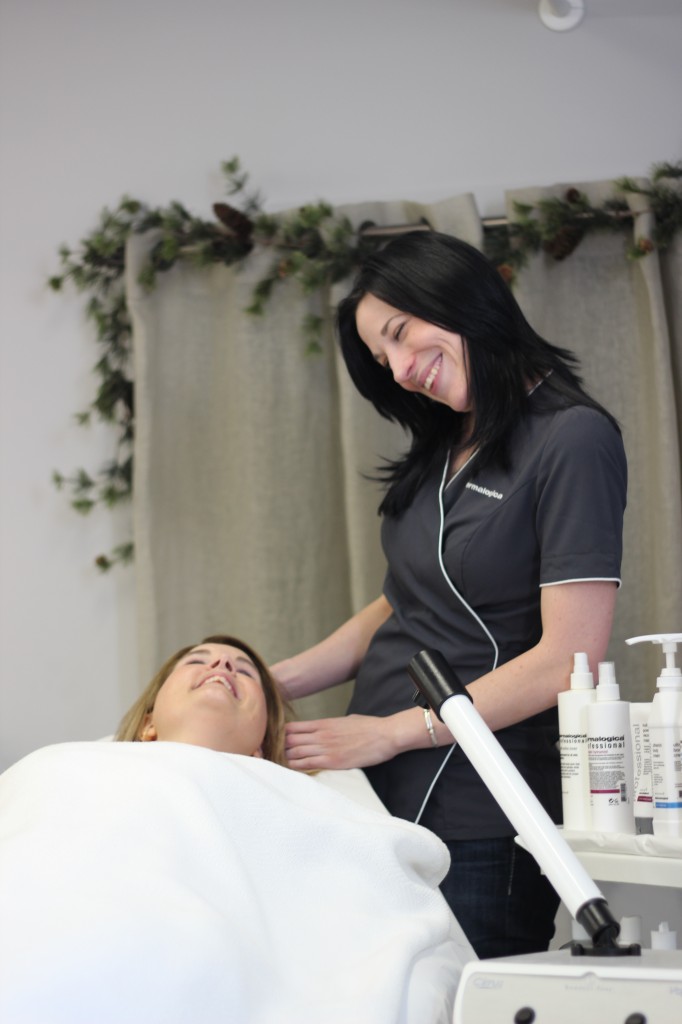 Now more than ever, people realize the importance of proper skincare, making esthetics one of the fastest growing segments of the salon/spa industry. Estheticians (soc) 39-5094.00 perform a variety of treatments to help provide the client with lasting skin health.
Keene Beauty Academy's Esthetics Program utilizes Dermalogica, one of the leading skin care systems in the world. Being a Dermalogica Partnership School enables us to provide the latest innovations in applications and products. Our program of study is approved by the National Accrediting Commission of Career Arts and Sciences, The New Hampshire State Board (and states with reciprocal agreements) and the U.S. Department of Education.
Our Esthetics program consists of 600 hours, approximately 8 to 9 months, 20 hrs a week. The objective of this program is for students to develop knowledge and skills in all areas of esthetics. The students must complete 600 hours of training in the blocks listed below.
Financial Aid:
We are a fully accredited institution. Pell Grants, Stafford Loans, Plus Loans, and scholarships are available for those who qualify. Cash payment plans are also available.
Block 1
Skin History

 Bed and Client Draping

 Treatment Room Theory

 Cleansing Procedure

 Professional Development

 Bacteriology and Sanitation

 Product Knowledge

 Exfoliation

 Skin Analysis

 European Facial Massage

 Pressure Point Facial Massage

 Mask Application

 Back Treatments

 Hand and Foot Treatments
Block 2
Waxing

Skin Histology

Skin Disorders

Extractions

Clinic Prep

Make-up

Lash Tinting

Body Treatments
Block 3
PH

Chemistry

Anatomy

Electricity

Machines

State Laws

Salon/Spa Management

Pedicures
Total Cost
Non-refundable Application Fee – $100
Lab Fee – $475
Uniform – $35
Books & Equipment – $1,500
Tuition & Basic Cost – $10,500
State Registration – $25 
Hours
Mon. & Wed. – 9AM to 4PM
Tues. – 9AM to Noon
Thurs. – 9AM to 3PM
(Lunch – 11:45 AM to 12:45 PM)
2018 Start Dates
January 15
May 14
September 10
January 22, 2019
*Keene Beauty Academy reserves the right to postpone a start date if less than two people have enrolled.
Student Kit & Equipment
Students may purchase a kit of professional tools and textbooks from Keene Beauty Academy. The student kit consists of the following:
Milady Textbook of Esthetics

Chromebook & Mindtap for Esthetics

State Board Exam Review

Mannequin

Makeup & body brushes

Headband & tweezers

Facial sponges

Manicuring tools

Pedicure tools
Dermalogica student skin care kit including:

Daily microfoliant

UltraCalming Cleanser

Active Moist

Colloidal Masque Base

Massage Cream

Calming Botanical Mixer

Solar Defense Cream

Multi-active Toner

Oil Free Massage
MultiVitamin Power Recovery Masque

Special Cleansing Gel

PreCleanse

Concealing Spot Treatment Scaling Fluid

Post Extraction Solution

Welcome Pack

Dermalogica Fan Masque Brush

Facial Sponges

"The Book"